BRHHM's Story
BRHHM's background reflects that of many young urban youth. With both parents incarcerated the majority of his life, BRHHM has admittedly tumbled through the coming of ages, fallen, and picked himself up numerous times.  Through basketball and other outlets he proved that sacrifice and positivity has its rewards.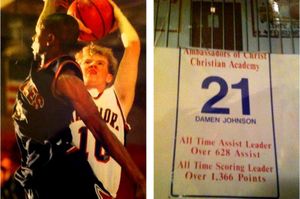 BRHHM is a 5 time high school varsity MVP whose jersey is retired in the State of Texas at Ambassadors of Christ Christian Academy.  He received scholarship offers and interests from some of the top NCAA schools in the country.  BRHHM committed to Texas Christian University (TCU).  TCU was BRHHM's choice with 1 simple deciding factor, the school was in his backyard.  His time at TCU was short-lived due to off the court issues, so he progressed his life as professional gospel musician.  Basketball had always been 1 of God's gifts to BRHHM; his love for the game undoubtedly pulled him back into the gym for another run.  BRHHM walked on at the school of the "Great Debaters" Wiley College (NAIA D1).  Again, not seizing opportunity, BRHHM ultimately withdrew from Wiley, leaving behind jazz band and basketball scholarships for a life of pickup games in the streets of Dallas/Fort Worth, Texas.  At age 20, bad decisions and life had already swallowed up a high school superstar basketball career, rendering him homeless and financially strained.
 
Navy Hospital Corpsman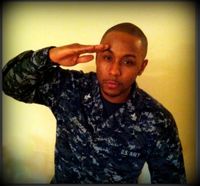 After a series of misguided choices, BRHHM enlisted himself into in the military.  "The fast life has very high ups and even lower downs which is all fair for a single young man, but no way could I establish a productive family into society without stability. (BRHHM)" The Navy became the vehicle for BRHHM to see the world, in-turn the world's chance to see BRHHM.  He attended boot camp in Great Lakes, Illinois prior to 9/11.  It was in medical school BRHHM had another opportunity to show his worth to the basketball community.  He quickly became a well- known elite basketball player on the military base.  The Medical gym would be packed with spectators to watch pickup basketball.  One August night in 2001, an NBA staffer for the Chicago Bulls was in attendance as BRHHM was in rare form on the court.  Based on his showing that night, BRHHM was afforded an opportunity to work out with the Chicago Bulls practice squad; a marriage that lasted 3 weeks, ending with an on-court injury in their practice facility.  "When I went down, it felt like I was swept off the basketball court for good. I am thankful for the experience." BRHHM reported to his 1st duty station in a wheelchair.  In the military, BRHHM had great success in intramural sports winning championship after championship each year of his Navy career.  He would turn down the opportunity to play on the stacked teams of the base and would join your blue-collar squads that may not be as skilled, but valued his services, teamwork, positivity, and goal of having fun while playing the right way.  BRHHM's teams made for great military base rivalries.
Street Baller
He was eventually stationed back in his hometown of  Fort Worth, Texas where he continued his reign in military intramural basketball, to ultimately refocus his talents to city sports.  He joined a local team and won the City title in the largest league in the State.  The City title led to an Austin, Texas State Championship showdown in which BRHHM stepped up for 1 of the greatest overtimes the league had seen in recent years.   After the championship game, BRHHM was offered a semi-pro basketball contract from the Texas Redhawks in which he "read" and signed on the spot.  He was a sailor by day and a semi-pro ball player by night.  His run with the Redhawks ended due to contractual conflicts between himself and the organization.  "I played a lot of games at parks to promote the semi-pro team.  When the money started coming up short, so did my time there.  Lesson learned, give it at least a day and several reads before signing your name to something. A lawyer is also beneficial when dealing basketball contracts."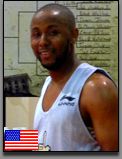 BRHHM had nothing to lose cutting ties with the RedHawks as undoubtedly his military transfer was near.  His next duty station was in New York City, "the Street Basketball Mecca".  "I was asked almost daily on the Navy base, when you get to New York are you going to the Rucker? I had nothing to prove, so I couldn't say yes or no.  I could only say Rucker Park was not on my agenda; service to my country was the task at hand." BRHHM stayed active on the courts of NYC and his street-ball style of play destined him to play with Rucker Park legends.  He spent his weekends balling in NYC's competition-filled pits such as Riverbank Park, where he and the great Alimoe aka The Black Widow (original And 1 mixtape legend) teamed up against hundreds of ball players.  "Playing with Al...at 1st I was star struck.  There stood a guy around my age, about 6ft 6, that could dribble like me, had been compared to Jordan, and had gone through similar tribulations as my own.  I was a nobody in the gym when we 1st linked up.  I had put work in on the court before losing and having to re-sign the waiting list to play.  I'm watching Al on the winners court, and 1 of his teammates rolls an ankle.  With over a hundred people in the gym waiting, Alimoe needed 1, and he looked over, even guys he knew from playing EBC & And 1 and said 'I want him! What's ya name, Bullet? Ok, Bullet.  Come on.' I looked at my shirt and realized he was actually talking to me. I gave them 100% effort and we won, then won again and again. The next week we are winning again and so on etc.  I earned my respect on the NYC courts as well as my name, thanks to Black Widow seeing my talent and bringing me to the front of the NYC hoop culture. Rest in peace, Alimoe; God bless."
From Player To Coach
After building a strong street ball reputation, BRHHM received an invite to play for the New York Knicks Lawyer League.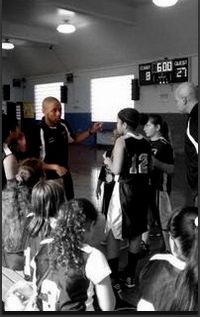 He led his team to 4 straight championships but could never close the deal.  Throughout this time BRHHM would hold mini camps to raise money and was always pressured to officially become a basketball coach.  At this point BRHHM had started several companies and launched a successful entertainment career, while still in his office every morning at 0700 for the military.  Life was extremely busy, but by several requests, BRHHM accepted a coaching job in the Bronx, NY at St. Benedicts Catholic School (CYO).  BRHHM became an elementary school girls' basketball coach.  His coaching style, philosophy, and swagger turned grade school basketball in the Bronx, New York upside down.  The kids responded to him like no other as he led that team to a 1st year championship game, catapulting 3 players into their first all-star selections.  St. Benedicts Catholic school began to grow.  Parents were enrolling their kids into the school in hopes of BRHHM becoming their kid's basketball coach.  "It was a blessing to coach those kids.  I can't lie, I caught the bug there.  I'd like to thank the school for taking a chance on me, when they could have easily had a good 'resume guy' in the position."
Red Bull King of the Rock
Coach BRHHM left St. Benedicts after the season due to his next military transfer.  His basketball focus was satisfied in the gym playing pickup ball in his last days of NYC life, when he received a phone call from a fellow sailor that had signed himself up for a 1 on 1 tournament in New Jersey, that in his words had, "...only 8 people playing, and they are ALL garbage! You win a thousand dollars.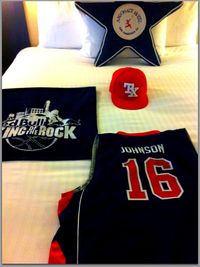 I can't be there because I'm DJ'n in ATL, but I told them you would go in my place.  It's tomorrow morning. Get this money!"  At this point in his playing career, BRHHM was down to 1 day a week pickup ball.  He had sustained a few looming injuries, but replied, "A free crack at a thousand bucks is worth the drive to New Jersey." I will be there."  When he arrived at the facility, the 1 on 1 tournament was nothing as described; the gym was packed!  Players flew in from China and other countries to participate in this event.  Being that he had made the drive overnight, BRHHM signed up and took a number.  The competition was stiff, but BRHHM was comfortable in this type of environment.  He won every game of the tournament.  Every opponent he faced was almost twice his size so each player took it to the post.  The wow factor about BRHHM's game isn't his ball handling tricks, a deep perimeter shot, or even his court vision; it's his post game.  BRHHM is a 5ft 7in point guard that will launch a hook shot from beyond the 3 point line consistently.  As long as opponents took it to the post, BRHHM would easily win.  By the time players realized this fact, it was too late, and he had won the Red Bull King of the Rock Qualifier for the State of New Jersey.  Pictures were taken, BRHHM was interviewed, and a big check was placed in his hands on his way back to NYC.  He then learned that he was now listed as a Top 64 street basketball player in the world as he was headed to Alcatraz Island to battle for $50,000, Red Bull King of the Rock crown, and the title of #1 Street Baller in the World.  Competitors from all 50 states and 33 different countries would battle on Alcatraz to be King of the Rock. NBA, ESPN, Slam Magazine, and many sports reporters were in attendance. 
Coach BRHHM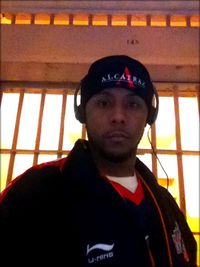 On Alcatraz Island BRHHM suffered a career-ending reinjure that killed any idea of him continuing the tournament.  "The guy actually did it on purpose.  He apologized after the game and I'll never forget what he said, 'Hey man I'm sorry, but it's 50 thousand dollars. What else was I supposed to do? I have so many bills' I could do nothing but respect that, because for me Alcatraz was an amazing happenstance to someone with a military career, signing autographs, couriered around by NBA players, and such.  For him it's all or nothing with no job and mouths to feed waiting back in his hometown. 50K is more money than he would see doing anything else legal." BRHHM returned to NYC and shortly after, transferred military assignments to Roanoke, Virginia. Coach BRHHM led a 1-year City Rec League 5th grade girls' team to a championship.  His next move was AAU sports.
BRHHM Sports
In travel basketball, it is a rarity to see BRHHM's team in a tournament and not in the championship game.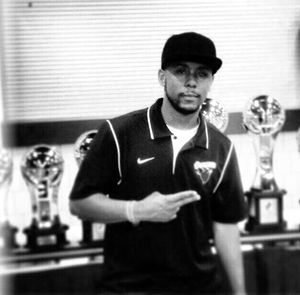 In his 1st year as an AAU coach his team won #1 in the State of Virginia with a winning margin greater than 20 points per game.  They carried their success into the National tournament where the run ended at #4 in the Nation.  "I still feel some type of way about losing in the Final 4.  I'm so proud of my girls. We'll be back!" BRHHM became widely know in the State of Virginia and neighboring states as Coach BRHHM (Brim).  He hosts tournaments, team building events, and community organization efforts powered by his love for children and sports.  The BRHHM Sports organization is centered around growth and development for the youth and a positive community outlook on life.  He continues to launch multiple initiatives & campaigns, in hopes of saving 1 life at a time.  "I don't need a major personal experience with autism to launch an Autism Awareness campaign. I don't have to have a family member with cancer to be a change agent or search for cures.  I never played AAU.  I do this thankfully."
BRHHM Sports has grown to 1 of the most recognized organizations on the East Coast.  7 consecutive VA State titles, 18 consecutive VA Commonwealth Games Gold medals, 2 consecutive AAU #4 in the Nation winnings led to 2016 #1 in the Nation AYBA, #5 USA Basketball ranking, and a plethora of accolades and achievements within our organization.  22 Hot 100 top 100 youth girls' basketball players have been selected from BRHHM Sports.  Multiple National Championships from almost every organization in travel sports from NTBA, Adidas, Nike, AAU, USBA, USJN, and beyond are credits to BRHHMGirls. Our girls are receiving high interests and heavy traffic from a variety of top Division 1, 2, and 3 schools, with multiple full scholarships and commits to further their profile as BRHHMGirls at the collegiate level.  WNBA and professional women's basketball players are also on the list of BRHHMGirls that train and are supporters of our groups. Though the travel basketball platform of our program has emerged to success. Coach BRHHM continues community outreach for those children similar to his upbringing that may not have that "AAU" opportunity at their feet.  He has a partnership with Roanoke Police Department.  His relationship with RPD has many positive layers.  Coach BRHHM was instrumental in working with the Mayor and RPD to establish the Lea Youth Outdoor Basketball League for Inner City youth, a summer league program in Melrose Park that has known grown into hundreds of kids each year participating, bridging the gap between inner city youth and Roanoke PD.  Coach BRHHM has retired from the military and settled his life in Southwest, Virginia to continue to build on the relationships and positive organic culture throughout our program. He is now also the Associate Head Coach of Hollins University Women's Basketball and Roanoke Catholic School Girls Basketball Head Coach. His goal is to see every player to their goals with a positive result for their life. #4Lyfe